www.shakti.org.bd
. To apply, you need to know what else is required, including the educational qualification documents, by looking at the recruitment circular. Applicant must be between 18 to 30 years of age. 32 years will be applicable in case of release.
Shakti Foundation is a national level non-governmental development organization. This organization has been conducting various development programs for the development of the poor population, among which the loan program is one of them. Most of its activities are in remote and remote areas and those interested in those areas must have a working mindset. Candidates who are interested in working in remote areas are encouraged to apply and preference will be given to interested candidates. A candidate can apply for only one post. Any application for more than one post will be treated as a cancellation of candidature.
How to Apply Online How to know the exam date? For details visit Shakti Foundation Recruitment Circular or website www.shakti.org.bd. Let's know about Shakti Foundation.
Introduction of Shakti Foundation
Shakti Foundation is a non-profit and non-political organization, which has been working since 1994 in the fields of microfinance, human rights, health, education at the grassroots level. MRA is currently conducting microcredit activities through 121 branch offices with the financing of various banks including PKSF. A development organization that provides loans to remote areas of Bangladesh.
Post Details: Microfinance Programme
1) Post Name: Branch Manager
Post-40
Salary- 33,000-36000 (Grade-01)
2) Name of the post: Area Supervisor
Post-25
Salary- 40000-43000
3) Post Name: Finance Supervisor
Post-05
Salary- 40000-43000
4) Name of the post: Region Head
Post-07
Salary- 66000-70000
Post Details: Health Programme
5)Post Name: Female Medical Assistant/Senior Paramedic
Post-20
Salary- 16200
Shakti Foundation Jobs Circular 2023 Information
Organization: Shakti Foundation
Notification published: 17 February 2023
Application Start: See Recruitment Circular
Category: 03
Number of vacancies: 470
Salary: See Recruitment Notification
Application Fee: 112/- and 560/- Rs
Medium: Online
Application Deadline: As per recruitment circular
Job Type: Full Time
Work Place: Anywhere in Bangladesh
Shakti Foundation Jobs Circular 2023 Uploaded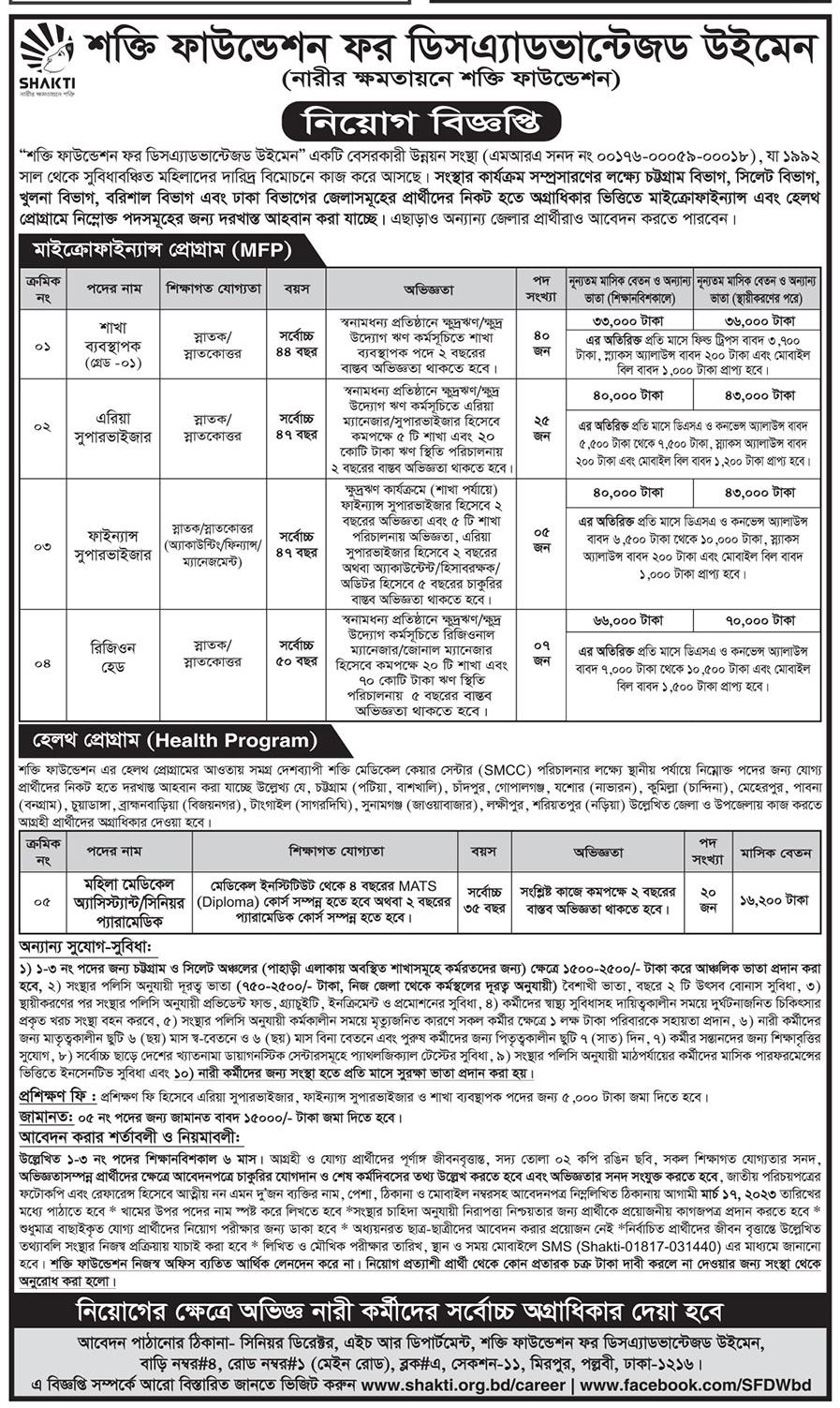 Shakti Foundation New Job Recruitment Circular 2023 Download and more detailed information can visit below link.
Stay tuned to our website www.ejobscircularbd.com to get more new job notification like Shakti Foundation. We update such daily government-private recruitment circulars. Also our page can be found on BD Job 24 or Facebook group. We encourage everyone to view job vacancies. Finally, thanks to everyone for following our website, Facebook page, Facebook group.